I am a second year DPhil student supervised by Prof Andy Hector (Oxford), Dr Melanie Gibbs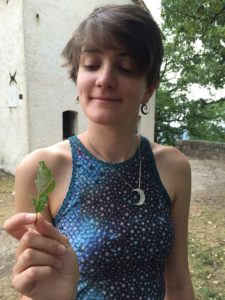 & Dr Karsten Schonroggë (Centre for Ecology & Hydrology, Wallingford) and Dr Nadia Barsoum (Forest Research). My research is funded by the Natural Environment Research Council (NERC) and Forest Research (CASE partner) through the Oxford NERC Doctoral Training Partnership.
My research project utilises the TreeDivNet network of experimental forestry plantations to address the susceptibility of forests differing in tree diversity to pests and pathogens.
I am interested in why tree communities differ in their pest and pathogen loads, and how this can be translated into sustainable forestry policy & practice.
I previously worked with the Plant Ecology group for my undergraduate research project, which investigated stabilising mechanisms in the legume-rhizobia symbiosis.
Contact Details
Email: elsa.field@plants.ox.ac.uk
Twitter: @elsa_field
Publications
Westhoek, A, Field, E., Rehling, F., Mulley, G., Webb, I., Poole, P. and Turnbull, L. (2017). Policing the Legume-Rhizobium Symbiosis: A Critical Test of Partner Choice. Nature Scientific Reports 7 (1): 1419. doi:10.1038/s41598-017-01634-2.
Other Articles
Field, E., Petrokofsky, G., Koricheva, J. (2018). What are the impacts of mixed forest stands on forest pathogens? A systematic review protocol. Read online here.
Field, E. (2017). "Oak powdery mildew – what's all the fuss?" A blog for Observatree, the tree health citizen science project, on my study organisms: the oak powdery mildew – Quercus robur pathosystem.