I'm a new student in the Master's program in Environmental Sciences at the University of Zurich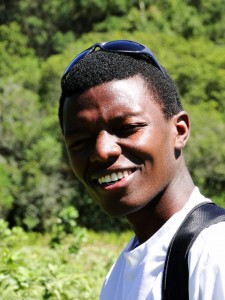 and I'll be doing my project jointly with Lindsay Turnbull, Gabriela Schaepman-Strub and Paolo Cherubini and I'll be based in Zurich until the end of 2013.
Before joining the Master's program, I earned a Bachelor's degree in Applied Aquatic Sciences from Egerton University, Kenya. I also have some experience in conservation data management from a year-long stint just after my bachelor's as data coordinator for a Kenyan marine conservation NGO. As a budding environmental researcher, I am mainly interested in the application of Remote Sensing, GIS and statistical techniques in environmental research, particularly from a problem-oriented perspective.
My master thesis is titled; "Deducing climate-induced productivity oscillations and mapping of vegetation communities on Aldabra atoll ". In this project, I will explore the effects of seasonal and interannual variations in precipitation on terrestrial productivity of Aldabra Island, a coral atoll in the Indian Ocean. Trends in the island's productivity derived from MODIS NDVI will be compared against plant growth on the ground, assessed by measuring tree rings in Ochna ciliata, a common species endemic to Aldabra. Once the rings have been measured I will explore the correlations between these two measures of productivity and precipitation records dating as far back as 1949. Findings from this study will facilitate a better understanding as to how seasonal and long-term climatic fluctuations impact terrestrial production in the tropics. Species at higher trophic levels – in this case the Aldabra tortoise – are dependent on primary producers for their sustenance and therefore, this study could aid predictions about how climate-induced changes in productivity could cascade through terrestrial ecosystems as a whole.